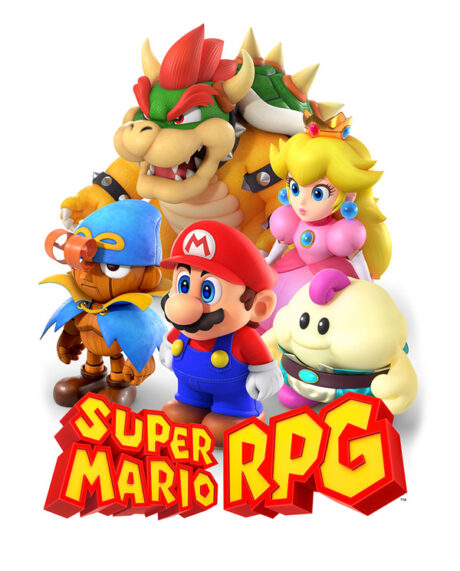 Platform
Switch, SNES
Publisher
Nintendo
Developer
Square Enix
Series
Super Mario
Genre
Adventure, RPG
Players
1
File Size (Minimum)
8 GB
Release Date (NA)
Nov 17, 2023
Release Date (JP)
Nov 17, 2023
Filed Under
It's been 27 years since the release of Mario's first role-playing game (RPG), Super Mario RPG on the Super Nintendo. In the recent Nintendo Direct from June 2023, fans got a special treat with a remake of the original Super Nintendo game. That's right, Super Mario RPG is coming to the Nintendo Switch, releasing November 17, 2023. Geno and Mallow make a return to stop Smithy taking over Mario's world. Super Mario RPG looks to bring a new players to this legendary game.
With the official title and new artwork, fans will want to showcase their fanbase of the popular video game series on their laptop, smartphone, and more. Now you can! You can grab this Super Mario RPG artwork no logo version 2 wallpaper for your favorite device. Fans can pick up the game for the Nintendo Switch digitally on the Nintendo eShop.
For more wallpapers, visit our Super Mario RPG wallpaper directory.
Super Mario RPG – Artwork No Logo Version 2 Wallpaper Mockup
Saving Wallpapers
The sizes will size most phones and desktops beautifully. Download your size by click/touch the button below. From there, select "save as" on desktop or press on the graphic while using your mobile device to save on your electronic device. Enjoy!
About Our Wallpapers
Our wallpapers have no watermarks and why should they? All we ask that you help spread the word about Cat with Monocle so we may continue bring you more news, reviews, custom graphics, and more! If you would like to donate, please contact us as it'll help keep our servers up and running… or at least give us caffeine to keep us working late nights.
What size fits my device?
Below is a cheat sheet on what's the best size for your device.
iPhone
iPhone 14 Pro Max: 1290x2796
iPhone 14 Pro: 1290x2796
iPhone 14: 1170x2532
iPhone 13 Pro Max: 1284x2778
iPhone 13 Pro: 1170x2532
iPhone 13 Mini: 1080x2340
iPhone 13: 1170x2532
iPhone 12 Pro Max: 1284x2778
iPhone 12 Pro: 1170x2532
iPhone 12: 1170x2532
iPhone 12 Mini: 1080x2340
iPhone 11 Pro Max: 1242x2688
iPhone 11 Pro: 1125x2436
iPhone 11: 828×1792
iPhone Xs Max: 1242×2688
iPhone Xs: 1125x2436
iPhone Xr: 828×1792
iPhone X: 1125x2436
iPhone SE (2020): 750x1334
iPhone 8 Plus: 1080x1920
iPhone 8: 750x1334
iPhone 7 Plus: 1080x1920
iPhone 7: 750x1334
iPhone 6s plus: 1080x1920
iPhone 6s: 750x1334
iPhone 6 plus: 1080x1920
iPhone 6: 750x1334
iPhone SE: 640x1136
Samsung Galaxy
Galaxy Z Flip: 1080x2636
Galaxy S20 Ultra: 1440x3200
Galaxy S20+: 1440x3200
Galaxy S20: 1440x3200
Galaxy S10e: 1080x2280
Galaxy S10+: 1440x3040
Galaxy S10: 1440x3040
Galaxy Note 10+: 1440x3040
Galaxy Note 10 Lite: 1080x2400
Galaxy Note 10: 1080x2280
Galaxy S9+: 1440x2960
Galaxy S9: 1440x2960
Galaxy Note 8: 1440x2960
Galaxy S8+: 1440x2960
Galaxy S8: 1440x2960
Samsung Galaxy A8: 1080x1920
Galaxy S7: 1440x2560
Galaxy S7 Edge: 1440x2560
Samsung Galaxy A5: 1080x1920
Other Android Devices
LG V60 ThinQ 5G: 1080x2460
OnePlus 8 Pro: 1440x3168
Google Pixel 4 XL: 1440x3040
Google Pixel 4: 1080x2280
Google Pixel 3 XL: 1440x2960
Google Pixel 3: 1080x2160
Google Pixel 2 XL: 1440x2880
Google Pixel 2: 1080x1920
Google Pixel: 1080x1920
OnePlus 5: 1080x1920
Google Pixel XL: 1440x2560
Moto Z2 Force: 1440x2560
HTC U11: 1440x2560
Tablets
iPad Pro (4th Gen): 2048x2732
iPad Pro (3rd Gen): 1668x2388
iPad Air (4th Gen) 1640x2360
iPad Air (3rd Gen) 1668x2224
iPad Air / 2 1536x2048
iPad Mini: 768x1024
iPad (8th Gen): 1620x2160